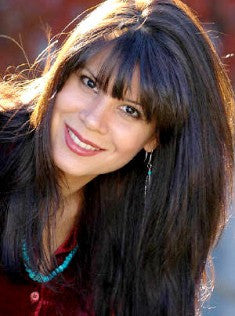 Though largely self taught, Dina Huntinghorse learned about inlay work from her late husband, Herbert Taylor, the legendary Navajo jeweler. Though the art world lost this iconic figure in 1996, his wife has dedicated herself to creating masterful works of wearable art in his memory.
Raised in Southwestern Oklahoma, Huntinghorse is a member of the Wichita tribe. Well-versed in the traditional art of beadwork, thanks to her aunt, the young artist's creative talents were initially devoted to beaded deerskin purses, which were popular at numerous art shows. Some of these exquisite pieces now reside in the permanent collection of the prestigious Heard Museum in Phoenix, Arizona.
Dina Huntinghorse is the only Wichita jeweler who works in precious metals such as gold and sterling silver (materials rarely seen among tribes of the Great Plains). Huntinghorse designs and hand-constructs each piece, making her creations truly unique. She is known best for her "horse" pendants, her use of high-grade turquoise, as well the diamond &18 karat gold fine jewelry she has most recently embarked on. Thanks to her dedication and talent, she is a regular exhibitor at the Heard Museum Indian Fair & Market, as well as the annual Santa Fe Indian Market.