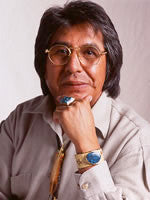 James Little's jewelry is steeped in ancient tradition and alive with innovation. His ultra-contemporary designs reach towards the horizon of the future while his use of ancient Indian symbols is a constant link to his traditional background.
Born in 1947 in a remote area of the Navajo Indian Reservation in northeastern Arizona, James was raised in a traditional Navajo family. Almost totally deaf from birth, unable to distinguish words that were not spoken distinctly and close range, he lived in a silent world of his own.
Most of his youth was spent in solitude, herding his family's flock of sheep. At home, James watched his mother weave ancient designs into her rugs while his uncle worked traditional symbols into silver jewelry. He listened intently, struggling to understand as his father and uncles told ancient Navajo legends.
Following a series of ear operation, James was fitted with hearing aids at age 19. The world suddenly became new and accessible. He no longer was content caring for the sheep, he wanted to do something-to go someplace-to be somebody. He told his family that he wanted to learn to make jewelry and with much courage he left his Navajo home in 1970 and traveled to Many Farms, AZ to study at the Navajo Community College under the noted Navajo silversmith Kenneth Begay.
James' artistic skill continued to grow, he was impressionable and he learned quickly. He has nurtured his dream and shaped it into reality and far beyond. He designs and creates exquisite jewelry of gold and silver incorporating the Navajo yei figure and his mother's rug designs into graceful contemporary pieces.
A master of perfection, James pays the strictest attention to minute details, as demonstrated by the flawless finish of each piece. Noted among the top contemporary Indian artists, and winner of numerous awards and honors, James continues to seek new challenges, always enthusiastic about innovative ideas. His exceptional talent and technical skill place James Little's creations in a class by themselves..Jewelry Art.